About Us

ARIEL is a growing, Torah-teaching congregation headquartered in Central Florida, open to all who are seeking the truth set forth in the Scriptures, from the book of Genesis to The Revelation.
The "Torah," an ancient Hebrew word meaning "Instructions of Yah," was typically used to refer to the first five books of the Scriptures written by Moses (Genesis, Exodus, Leviticus, Numbers and Deuteronomy). In modern English translations, the word Torah is often translated throughout the Scriptures as the Law, the Commandments and the Word. 
ARIEL also believes that the Messiah, Yeshua (also called Jesus), was "the Word made flesh" that suffered and died as the Hebrew prophets foretold centuries beforehand. ARIEL strives to teach the Torah that Messiah taught, conducting worship and teaching services every Shabbat (Saturday) as well as celebrating all of the appointed Feast Days.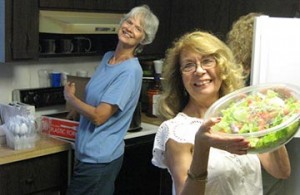 Members of ARIEL come from all kinds of backgrounds—racial, national and spiritual.  There is also a substantial deaf community, as well as people from every age group.
Maybe you have felt a bit out of place with the mainstream denominations, or you may have recently been led to know more about the Hebrew roots of your faith. Maybe as a Jewish person you are wondering how the prophecies about the Messiah fit in when you know that Adonai is ONE. Or maybe, like most of us at ARIEL, you are just sincerely hungry to know the pure truth of the Word without any other religious dogma or embellishments in order to understand how to truly have peace and please our loving Creator and Father.
Whatever God is doing in your life right now, you can rest assured that others are probably experiencing the same as well, and  you will likely feel right at home with the loving, diverse and non-judgmental family  that is ARIEL!